"METEOROLOGÍA : HOY APERITIVO DEL VERANO 2011" (Actualizado a las 23,00)
Hola a todos.
Vistas las temperaturas publicadas por Meteociel.Fr. las temperaturas aparecen esta mañana de sábado muy altas en buena parte del Occidente de Europa e Islas Británicas. Los valores comprendidos entre los 18ºC y los 22ºC son dominantes.
En este otro mapa de Wetterzentrale.de sólo se observan valores invernales muy al Este o sea sobre Rusia.
El mapa der Hamweather.com de fácil interpretación insistía en "más de los mismo".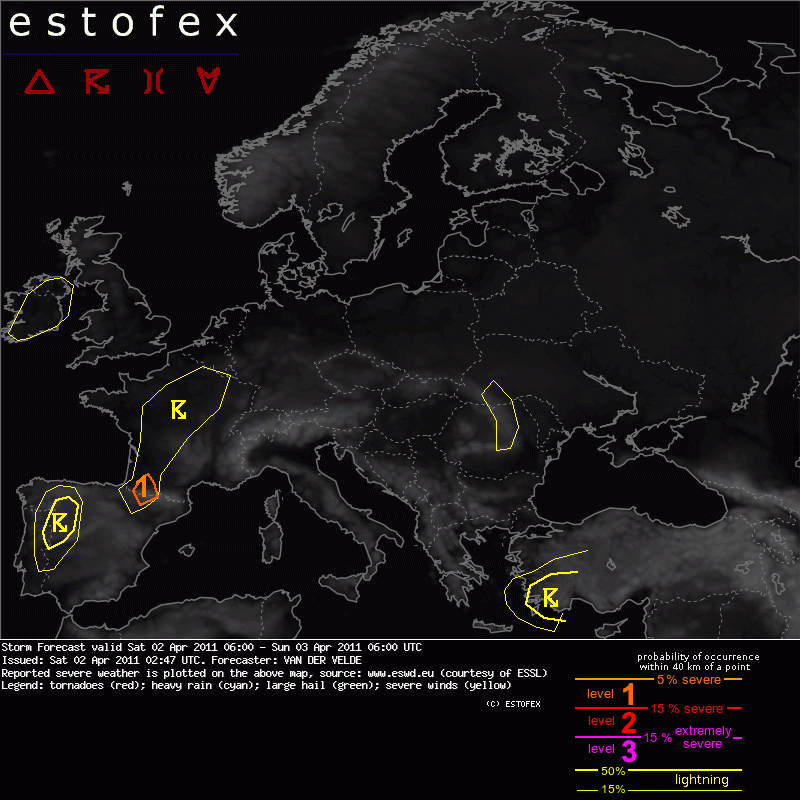 Estofex nos indica riesgo de tormentas en Portugal, interior de Galícia y Asturies y especialmente en la cuenca alta del Ebro y Pirineo más Occidental.
Los mapas de Weatheron line.co.uk preveen las lluvias señaladas con máximos en el interior de Astúries y León.
---------------------
Lluvias torrenciales fuera de la Estación en Tailandia.
=====================================
Normalmente el fin de Marzo conlleva tiempo seco y tropical en Tailandia. En el 2011, sin embargo una potente depresión se situó sobre la Península de Malaya causando precipitaciones de hasta 1.270 milímetros ( unas 50 pulgadas) en poco más de una semana. Lass intensas lluvias inundaron 8 provincias,mataron 13 personas y afectaron a 842.324 personas hasta ayer día 1 de abril. dijo el gobierno de Tailandia.
Las precipitaciones basadas en el análisis del satélite Tropical Rainfall Measuring Mission (TRMM) muestra las lluvias para el período Marzo 23–30, 2011. Las lluvias varian entre los 200 mm. o litros ( 8 pulgadas) hasta más de 1.200 mm. o sea 47 pulgadas. en la Península de Malaya.TRMM registró la lluvia más intensa inmediatamente al Sur de la ciudad de Surat Thani.measured the most rain immediately south of the city of Surat Thani.
Según AccuWeather, la región recibe usualmente de 1–3 pulgadas (25–76 mm) de lluvia en marzo,y fuertes chubascos suceden en otras partes del año. Estas lluvias excepcionales están causando deslizamientos de tierras y extensas inundaciones. Un corrimiento de tierras en la provincia de Krabi destruyó un grupo de viviendas dejando 100 personas desaparecidas según informa el periódico Thai "The Nation"
Información gentileza de N.A.S.A.
Meteosat actual. Nieblas litorales en el Sudeste de Francia.Nubosidad en la Península más abundante al Oeste.
Esta noche sólo aparecen tormentas en el Golfo de Vizcaya.
De momento nada más.
Saludos.
Mariscal Tro
Fuentes: HamWeather,Meteociel, Weather on Line, Estofex, N.A.S.A. WetterZentrale ,Blitzortung y propias.