"METEOROLOGÍA: PREVISION DE COLOSALES NEVADAS EN NEW YORK." ( 2ªActualización 27 Enero)
Hola a todos.
Boston MASSACHUSSETS.
En la capital del estado de Massachussets la nieve ha cubierto completamente las calles e incluso ha sepultado a los coches aparcados. Una secuencia captada a las puertas de su casa por la joven barcelonesa Clara Nafría -que este trimestre cursa en Boston sus estudios de publicidad- muestra la potencia de la nevada.


Leer más: http://www.lavanguardia.com/internacional/20150127/54424043125/nieve-boston.html#ixzz3Q3wd4cr4
Síguenos en: https://twitter.com/@LaVanguardia | http://facebook.com/LaVanguardia
UNA INCH O PULGADA ES IGUAL A 2,54 CMS.
Adjunto noticias aparecidas en la Prensa digital de hoy sobre las nevadas que ya están empezando a caer en la Costa este de los Estados Unidos. Recomiendo seguir hasta el enlace del Daily Mail que viene a continuación. El contenido de nevadas históricas y algunas estadísticas son de interés para el sufrido aficionado del litoral mediterráneo. Tenemos que conformarnos con imágenes más o menos lejanas...esperando el día en el que podamos ver nevar a través de las ventanas de casa.
http://www.dailymail.co.uk/news/article-2926322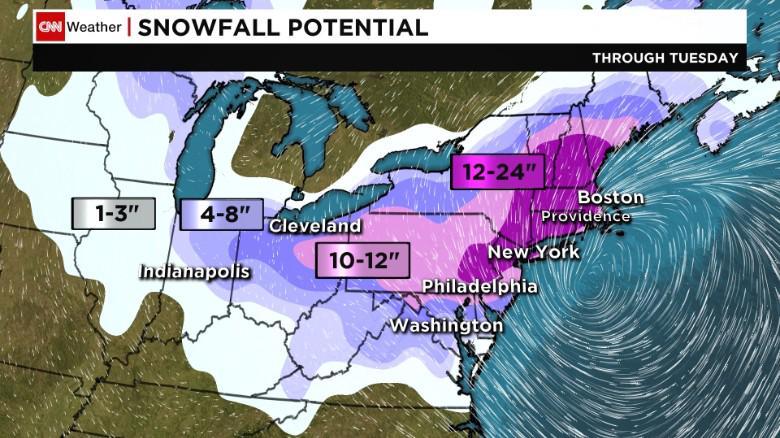 Nevadas y su posible potencial expresados en pulgadas para mañana martes. 1 Pulgada = 2,54 cms.
Una mujer camina por una calle de Cambrigde, en Massachusetts, zona en alerta por la nevada. REUTERS /Bryan Snyder
LUNES, 26 DE ENERO DEL 2015 - 18.31 H
La nieve ha empezado a caer en Nueva York
en la que se anuncia como
una de las peores tormentas desde que existen registros, "histórica" y "peligrosa",
según la ha descrito el Servicio Nacional Meteorológico. Las autoridades han decretado el estado de emergencia. Con alerta de grandes nevadas y fuertes vientos con rachas de hasta 100 kilómetros por hora declarada en 400 kilómetros de la costa este, miles de vuelos en la región han sido cancelados preventivamente ya, se espera la supensión de miles más y las autoridades intensifican las llamadas y medidas para prepararse para la gran nevada y sus consecuencias.
El pasado noviembre, una gran nevada ya causó cuatro muertos.
El principal problema serán los desplazamientos en toda la región y en Connecticut, por ejemplo, se ha impuesto un veto al tráfico rodado en las carreteras y autopistas del estado a partir de esta noche. Se advierte también del riesgo de potenciales problemas con el suministro eléctrico.
Para la ciudad de Nueva York lo peor se espera entre esta tarde y mañana, para cuando se calcula que pueden acumularse entre 60 y 90 centímetros de nieve, superando el récord de 68 centímetros que cayeron en una nevada en 2006. Los colegios están abiertos hoy pero se han suspendido las actividades extraescolares para la tarde y muy probablemente cierren mañana.
"Mi mensaje para los neoyorquinos es que se preparen para algo peor de lo que hemos visto antes. Es hora de prepararse para este tiempo extremo", alertó el domingo el alcalde, Bill de Blasio, que pidió que no se minusvaloren los riesgos y avisó también de potenciales problemas en el transporte público y pidió "paciencia".
"RETRASOS EN TODO"
"Esta puede ser la mayor tormenta de nieve en la historia de la ciudad de Nueva York así que puede haber retrasos en todo", dijo el primer edil. Pese a los preparativos de emergencia, que incluyen 2.400 empleados municipales que trabajarán en turnos de 12 horas limpiando las carreteras y echando sal, las nevadas pueden alterar los servicios de metro. Los más afectados serán quienes viven fuera del centro y usan coche o transporte público, pues se preven cierres de carreteras y servicios alterados o suspendidos en trenes y servicios de cercanías.
(El Periódico Sociedad).
Striking again: 25.8inches of snow fell on Central Park in 1947, which came as a surprise because it approached from over the sea (Lo más chocante es que fué de orígen marítimo).
Se midieron unos 65 cms.
2: December 26-27, 1947 (25.8 inches)
Passengers scurry to buses at 49th Street and Fifth Ave as snow continues to fall on Dec. 26, 1947.
http://www.nbcnews.com/
3: March 12-14, 1888 (21 inches)
The awning of a grocery store is damaged from the weight of the snow during the blizzard of 1888 in New York City. The blizzard on March 12-14 paralyzed the city with winds that reached up to 60 miles per hour, creating drifts as high as fifty feet.
http://www.nbcnews.com/
A wrecked train half-buried in the snow at Coleman's Station in Dutchess County on the New York and Harlem Railroad on March 12, 1888 during the Blizzard of 1888. (Courtesy of the New York Historical Society)
http://photos.nj.com/sta
From The Star-Ledger
http://photos.nj.com/ AÑO 1888
By
By
http://photos.nj.com/
Record-holder: A storm in 2006 which dropped almost 27inches of snow in New York City is the current record-holder. Above, a man walks his two golden retrievers through the blizzard. Se midieron unos 68 cms.
Se teme que la nevada ya iniciada pueda superar los records de lás máximas nevadas desde 1888.
1. February 11-12, 2006: 26.9inches
2. December 26-27, 1947: 25.8inches
3. March 12-14, 1888: 21.0inches
4. February 25.26, 2010: 20.9inches
5. January 7-8, 1996: 20.2inches
Workers have been told to stay home ahead of traffic mayhem as the blizzard and hurricane-strength winds hit the Northeast.
Winter storm Juno can be seen covering the Northeast of the U.S. in a satellite image released on Monday. Several feet of snow was expected across the region
Blowing in: The storm is seen above from space at 5.45pm New York time. The worst has not yet hit.
PREVISIÓN ENTRE LUNES NOCHE Y MIÉRCOLES. BOSTON Y NUEVA YORK LAS MÁS AFECTADAS.
Frozen sardines: Commuters in this New York City train station were crammed in as the 11pm transport deadline drew nearer.
Commuters in New York were being urged to head home early as mass transit planned to run on reduced schedules during the worst of the storm on Monday night .
Not promising: A passenger at LaGuardia airport looks at arrival and departures boards racked by cancellations
Bagel chips and pasta sauce it is, then: This Gristedes store had precious little to offer shoppers Monday night after panic-buyers took everything.
Here it comes! New York was bracing for a severe snowstorm which was set to begin around noon on Monday and could drop up to two feet on the city and bring hurricane-strength winds. A state of emergency was announced by Governor Cuomo today.
Fotografías :
http://www.dailymail.co.uk/
Dicho esto,parece que en España y Portugal vamos a repetir los vientos duros de hace unos o dos días cerca del próximo fin de semana. No descarto fuertes nevadas y temporales de mar. Entraremos en febrero con una meteorología muy activa propiciada por activas circulaciones atlánticas. El Gran Oso siberiano sigue durmiendo su larga siesta. ¿Despertará en febrero?
Saludos.
Mariscal Tro